6 Steps To Achieve Explosive Growth
You Can't Launch A Rocket Without Fuel.
Start by making sound investments into your marketing budget to light the fire of growth.
Turning Visitors Into Customers Is THE Goal.
Don't get distracted by clicks and 'likes'. They do not pay the bills or improve the bottom line.
Customer Churn Is Way Too Costly To Ignore.
Research shows it costs between 5x and 25x more to acquire a new customer than to retain an existing one.
Learn What's Working And What's Not.
Always. Be. Testing. That's our motto, and why its in our name. If you're not constantly testing, you can't know what's working and what's not.
Turn Your Measurement Insights Into Action.
It sounds simple: increase what's working and decrease or discard what's not. You'd be surprised how few digital agencies actually do this work.
Feed The Rocket With More Fuel!
Now, it's time to scale. Take your new found profits and re-invest. Finally, you'll have the $$$ to hire that extra help… that will help you grow… that will help you re-invest… that will help you grow! 💰
Advanced Certifications Mean Your Account Is Handled By Experts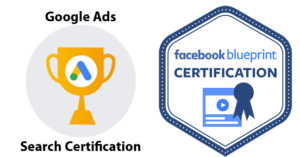 Our Proven Process Produces Results
1. DISCOVERY
First, we get to know you and your brand.  What industry are you in?  What kinds of customers are you looking for?  What results are you looking to achieve?
2. PLANNING
Next we create a customized plan specific to your business and industry.  Elements can include Google Ads and Facebook management, landing page creation, and more.
3. EXECUTE
Your plan is put into action, and you will work directly with a digital marketing expert to ensure that your plan is executed properly.
4. TESTING
Constant testing, updating, and re-testing is a core of what we do.  We're always making sure that your accounts are fully optimized.
5. REVIEW
Monthly reports let you know exactly how effective your campaigns have been.  Track and monitor your results to ensure that your accounts are always running smoothly.